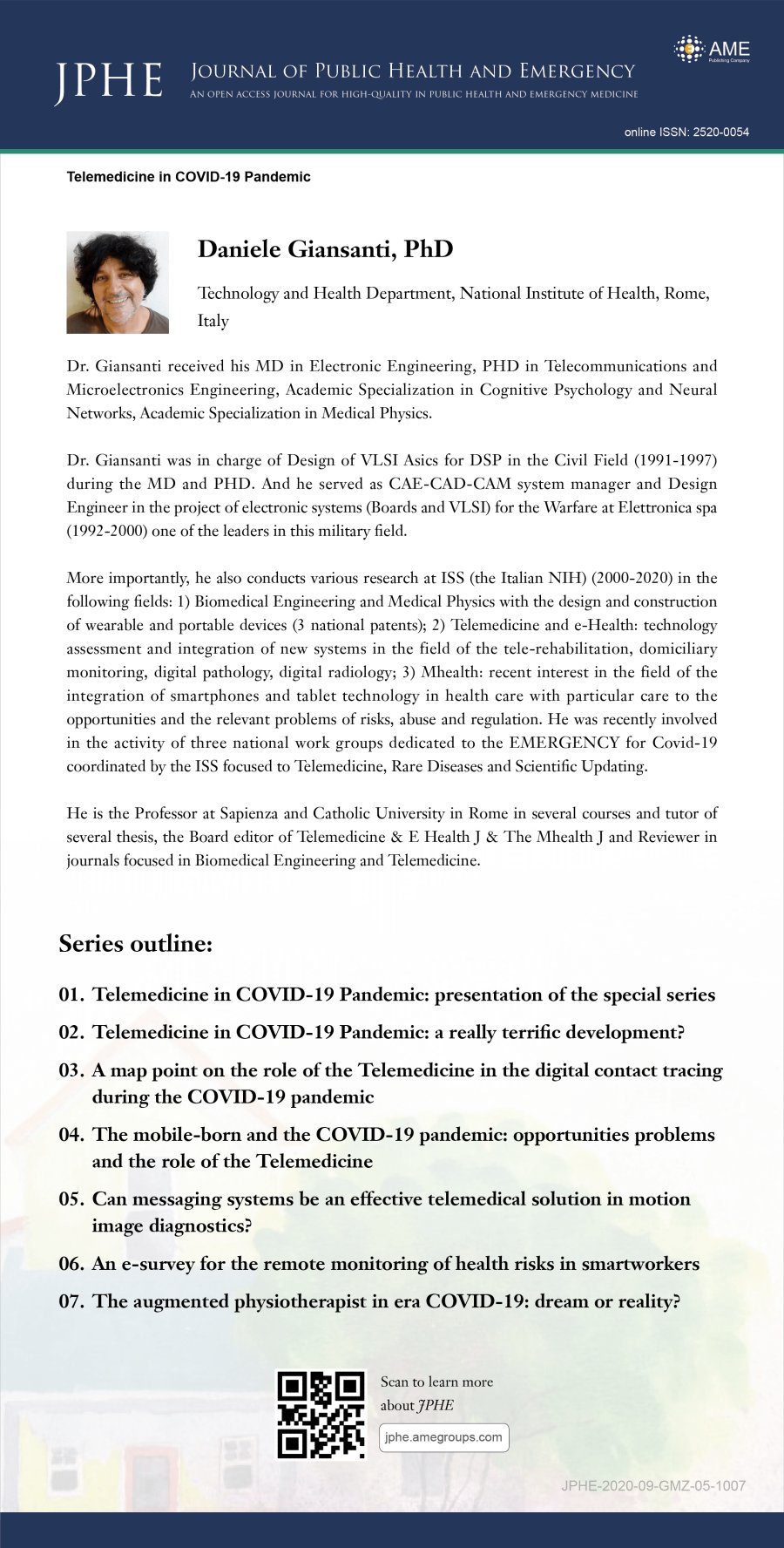 This series on "Telemedicine in COVID-19 Pandemic" is edited by Dr. Daniele Giansanti from National Institute of Health, Italy.
Daniele Giansanti, PhD
Technology and Health Department, National Institute of Health, Rome, Italy
Dr. Giansanti received his MD in Electronic Engineering, PHD in Telecommunications and Microelectronics Engineering, Academic Specialization in Cognitive Psychology and Neural Networks, Academic Specialization in Medical Physics.
Dr. Giansanti was in charge of Design of VLSI Asics for DSP in the Civil Field (1991-1997) during the MD and PHD. And he served as CAE-CAD-CAM system manager and Design Engineer in the project of electronic systems (Boards and VLSI) for the Warfare at Elettronica spa (1992-2000) one of the leaders in this military field.
More importantly, he also conducts various research at ISS (the Italian NIH) (2000-2020) in the following fields: 1) Biomedical Engineering and Medical Physics with the design and construction of wearable and portable devices (3 national patents); 2) Telemedicine and e-Health: technology assessment and integration of new systems in the field of the tele-rehabilitation, domiciliary monitoring, digital pathology, digital radiology; 3) Mhealth: recent interest in the field of the integration of smartphones and tablet technology in health care with particular care to the opportunities and the relevant problems of risks, abuse and regulation. He was recently involved in the activity of three national work groups dedicated to the EMERGENCY for Covid-19 coordinated by the ISS focused to Telemedicine, Rare Diseases and Scientific Updating.
He is the Professor at Sapienza and Catholic University in Rome in several courses and tutor of several thesis, the Board editor of Telemedicine & E Health J & The Mhealth J and Reviewer in journals focused in Biomedical Engineering and Telemedicine.
Series outline:
Telemedicine in COVID-19 Pandemic: presentation of the special series
Telemedicine in COVID-19 Pandemic: a really terrific development?
A map point on the role of the Telemedicine in the digital contact tracing during the COVID-19 pandemic
The mobile-born and the COVID-19 pandemic: opportunities problems and the role of the Telemedicine
Can messaging systems be an effective telemedical solution in motion image diagnostics?
An e-survey for the remote monitoring of health risks in smartworkers
The augmented physiotherapist in era COVID-19: dream or reality?
Disclosure:
The special series "Telemedicine in COVID-19 Pandemic" was commissioned by the editorial office, Journal of Public Health and Emergency without any funding or sponsorship. Daniele Giansanti is serving as the unpaid Guest Editor for the special series.