Review Article
The role of social and mainstream media during storms
Introduction
A natural disaster is a naturally occurring event caused by changes of the earth's atmosphere and geographic locations (1). There are multiple natural disasters such as landslides, floods, wildfires, earthquakes, and storms. A hurricane is a violent storm with strong winds and heavy rain occurring typically in the southeastern United States (1). A cyclone is closely related to a hurricane but occurring in the northwest Pacific region. A typhoon is another word for hurricane which occurs in the southeastern Pacific region (1).
Social media sites allow users to communicate and share messages through social networking. Mainstream media is used to save lives by contacting people and make them aware of the ways to overcome the adversities of violent storms and hurricanes. Social media is a key tool during a natural disaster. Networks such as Facebook, Twitter, Instagram, Snapchat and others are used to communicate a large variety of topics with others. These social media platforms can educate people at an exponential rate during natural disaster events (2). Through Twitter alone, millions of users interact each day, and during disaster times, the amount of interactions and tweets increase (2). Tweets that possess valid information, emotional appeal, encourage safety and participation in aid, are the most shared and retweeted. Tweets regarding natural disasters can inform the public through conveying risk factors, locations to stay away from, where aid is located, locations of high exposures, locations of people who need help, and more.
It has been seen that assessment of damage from certain natural disasters can be found through monitoring social media activity (3). Living in an area under constant threat of disaster has led people to be prepared ahead of time (4). In the case of a natural disaster, people are dependent upon social media, local media, community organizations, and neighbors for updates on conditions and the necessary actions to take (5).
Microblogging platforms like Twitter and Plurk allowed people to contact emergency services when traditional means were overloaded (6). Twitter was used to conduct a passive surveillance study showing what emotions were felt during and after disasters (7), a novel surveillance approach for disaster mental health. Sadness and disgust were the most prominent emotions felt before, during, and after a natural disaster. Women were also more likely to use Facebook as a source of information and comfort (8). Therefore, social media can be used as an informative and supportive network for those affected by natural disasters (8).
The significance of social media role during disasters including storms has been identified by several studies (9-12). Social media has been identified as the fourth most popular source for people to access emergency information during a crisis or disaster (13-15). Studies also demonstrated that use of social media increases during disasters as people tends to look for immediate and in-depth information (16-18). Social media becomes widespread through keeping users up-to-date on recovery, security and aid during disasters (19). Utilization of crowdsourcing from social media sites benefits emergency responders and enhanced public health knowledge and surveillance (19).
Mass media like newspaper, radio and television also play a vital role in disaster communication but primarily facilitate one-way information dissemination (18,20). While social media such as Facebook, Twitter, or the internet in general on the other hand create two-way interaction opportunities among organizations, the public, and individuals (18,20). During an emergency, people may obtain important weather information from mass media as well as social media (21). Social media platforms, uniquely different from traditional ones, can help disseminate targeted information during a crisis (21).
After natural disaster takes place, infrastructure and access to health services are compromised. Emergency risk communication (ERC) is one of the most effective ways to combat this problem and communicate with the public during and after a natural disaster (22). However, there needs to be a combination of social media notifications and sensor data in order to properly predict disasters and their severity (23). And though the use of social media increases dramatically when traumatic events like Hurricane Sandy occur (24), there is still a lack of knowledge about the role of mainstream and social media during and after storms. In this study, we will investigate the role of social and mainstream media during and after storms.
---
Methods
We conducted research to obtain information about hurricane natural disasters and their impacts on public health for individuals, their families, communities, cities, regions and globally. Through analyzing and compiling information from twenty-two different published studies, positive and negative effects and risk factors were brought to attention (Box 1). The published studies also included: the geographical locations the cyclone/hurricanes/typhoons occurred, sample sizes from the data included, physical damage, and biological and chemical contamination (Figure 1). Social media platforms such as Facebook, Twitter, Flickr, health map, and others were mentioned throughout the published studies. Our study methodology and search terms are similar to that of the research done by Finch et al. (19), where they looked upon Public health implications of social media use during natural disasters and environmental disasters as well as other environmental concerns.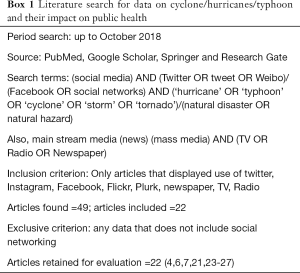 Box 1
Literature search for data on cyclone/hurricanes/typhoon and their impact on public health
Full table
Rationale of the study
To investigate the roles of social media and mainstream media during storms by reviewing several published researches and compare the findings to acquire in-depth knowledge on this particular subject matter.
---
Results
Study characteristics
Table 1 provides information from studies about the strength and weaknesses of social media networks during hurricanes, typhoons, cyclones, etc. Twelve different scholarly resources were used to obtain our data. The data of these papers were collected over the United States, Taiwan, England, Haiti, and the Philippines (Tables 1,2). All studies relate to social media use during storms, while some pertain only to certain users of Facebook and Twitter. Another describes photographs taken during hurricanes between the dates of 2004 to 2014 (22). Table 2 includes information pertaining to studies made by non-social media sites like ABC News, United States disaster relief, and Integrated Connectedness Storytelling Network (ICSN). Ten studies were used to access this data. The locations studied were in the USA (Louisiana, Alabama), and the United Kingdom. The studies related to the preparedness (4,25,26) before the hurricanes and to the post assessment of the areas affected (4,27).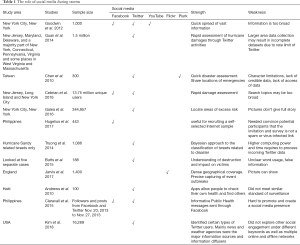 Table 1
The role of social media during storms
Full table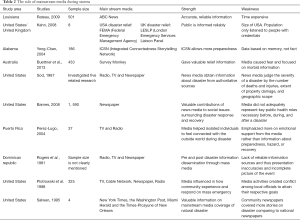 Table 2
The role of mainstream media during storms
Full table
With review of our studies, it has been concluded that social media and mass media have significant impacts on the health and safety of the subjects studied.
Twitter
Twitter (98%) is the most prominent source of information pertaining to people's wellbeing and relief with compliments of our collected data. It is also the best social networking for public interactions.
Facebook
Facebook is another prominent source for lifesaving information during storms through disseminating updated information on rescue, safety and relief. Facebook has great potential to promote public health to its users by the sharing of videos of important lifesaving information.
YouTube
YouTube videos act as a disaster forecasting platform to warn people with lifesaving information on evacuation as well as safety measures before any disaster.
Plurk
Like Twitter, Plurk act as a communication tool to its users about emergency response team efforts, shelter, safety measures and contribute through updating about storms.
Flickr
Flickr used for broadcasting videos and images of disaster damage to the mass people in order to seek support and aware them about the conditions after a natural disaster.
Mass media
Mass media help to display knowledge and information for people. Government agency's information based on preparedness and post storms proved more impactful (56%) compared to news networks supported by the collected data. Also, government agencies are the trusted sources of information that are typically relayed through influential speakers and knowledgeable workers. Media also helped tremendously by providing pre and post disaster information, how people should respond on mass emergency, and supported people emotionally during disaster from being feeling alone and helpless.
---
Discussion
Social media platforms helped spread awareness, support and warnings. It has a huge impact on natural disaster relief. Users of social media generated discussion and provided real-time information more quickly than sending field workers to the sight of disaster. The dispersal of information is most effective when displayed through infographics showing people what to do. Twitter is the most prominently used social networking site compared to all others and is comparable to mass media by government agencies.
Utilizing twitter during natural disasters is beneficial because of its large platform of millions of users globally. Twitter is the most-used social media platform during hurricanes. It allows easy exposure of aid and information to people around the world that would otherwise be hard to communicate with. The sharing of information through Twitter has been known to encourage social cascades of life saving actions and unity. It is also an excellent resource for public health professionals to stay updated on the health of individuals before, during and after the hurricanes. Twitter can be used by public health professionals and policy makers to provide immediate response and assistance to post-hurricane concerns. This allows for people to feel heard and helped by officials and can provide mental relief for those worried.
Twitter offers certain 'hashtags' that allow rescue teams to locate victims in distress. Twitter also bonds a community together with sharing information to others around the world which can drive support for the people affected. Hash-tagging, the main method of tracking relative information/trends on Twitter, can be used during a storm (e.g. , #hurricaneharvey) to first, bring awareness to the natural disaster quickly, and second, to gather response data from active users. Professionals and policymakers should analyze tweets by those affected by the hurricane and change the programs and laws they uphold in correspondence to the needs of the victims to better aid and support them. Through this process, promotion of general wellness and public health for everyone can be improved.
Facebook has great potential to promote public health to its users by the sharing of videos of important lifesaving information such as where to find canned food stations, clean drinking water availability, emotional stories about the hurricane damage, and other things. Facebook Live is also a feature that can be used to stream live videos of where victims are so that rescue teams can locate them. Also, by posting on Facebook during and after hurricanes, communities can create safe places for those who are in need and offer support for each other emotionally and medically. The data from the population that is affected by the storm through Facebook can also be beneficial to public health.
YouTube can most effectively be used prior to storms by broadcasting videos that educate the public on evacuation measures and safety precautions. It can contribute to the aid of storm warnings by news outlets sharing videos of weather forecasts.
Plurk can contribute to updating news with videos about storms and can be utilized to spread awareness for those affected. Like Twitter, Plurk can be used to communicate to its users about response team efforts, sites of shelter and safety measures. The goal is to have a large range of information spread quickly, so that smaller sites can be just as helpful for the people who do not use Twitter or Facebook. Plurk can also be used by public health professionals and policy makers to provide immediate responses. It can promote public health and save human lives by a blogger sharing their personal and emotional story of what happened to their own family during a hurricane and the actions the individual took to protect themselves.
Flickr is an image and video hosting website which can allow users to post videos of storms and possibly even rescue teams saving victims. It can also be used to broadcast the damages created by the storm to the broader public to recruit support and bring awareness of the conditions after a natural disaster. It can also help to restore trust and faith within the community and of official aid organizations. Through the sharing of pictures of stranded families, aid teams coming to their rescue, as well as damages done to electrical plants and homes, could grab the attention of the nation and encourage people to donate.
The mainstream media kept the public updated about storms and served as a reliable source that could see by many to offer solutions for those troubled by the natural disaster. The news/main stream media is a necessary tool for reaching those who do not use social media. It is most effective when broadcasted messages are positive instead of negatively reinforcing the present tragedies. The news outlets provide a credible source of information but are often delayed or fail to reach mass consciousness as compared with social media. It can play a more positive role by promoting the value of social media use in the event of a disaster as well as promote public health through the sharing of success stories. They also could improve by including statistics of community health, occupational safety, etc.
Residents that fit into the categories of more educated, wealthy, older, female, younger, and white are more likely to not want to leave their area (5). However, there was a positive correlation between community engagement and preparing for natural disasters (5). Data from social media can also help to identify the affected people by disaster, identify their physical location for post-disaster recovery (28,29). Despite all the benefits of social media, a question that arises is, how can we engage the considerable amount of the population that does not utilize social media? It is still unknown how all of these social networking cites ultimately contribute to security and distress relief. Public health professionals need to know exactly how far social media can reach, and who it can't reach. They should take advantage of social media to release lifesaving information as soon as they obtain knowledge and warning that a storm will strike. This will have had educated the people and decreased their vulnerability when the storm hits.
A major limitation about data collection and analysis is the limited sample size. The less educated, the less wealthy and those in rural areas have less access to technology and the internet. Implications are that these groups are more vulnerable during storms. Another limitation is that because these applications are readily accessible and used by millions, gathering valid and credible information is difficult. Although social media can be helpful during disasters, it can also spread broad, vague and incorrect information.
---
Conclusions
Social media and mass media are two important resources that when utilized, many lives can be saved. Though social media has more impact on the health and safety of subjects, it is important that it be used in tandem with the mass media to reach the greatest number of people. Now that almost everyone has a smart phone, during a storm it will keep everyone "in the loop" of information of when, where, and what to do to prepare. Facebook was similar with displaying important and beneficial information. Twitter is the most prominent source of information pertaining to people's well-being and relief. It is a great way to spread information quickly to the masses. Twitter has become more prominent than mass media; this shows that times are changing, education and technology are constantly evolving, and therefore public health professionals need to adapt to the generations in order to reach out to everyone. Public health professionals and emergency response teams should utilize social media to educate, relocate, rescue, aid, and provide mental, physical and emotional support, to save the lives of the users of the networks that are affected by storms.
---
Acknowledgments
None.
---
Footnote
Conflicts of Interest: The authors have no conflicts of interest to declare.
Ethical Statement: The authors are accountable for all aspects of the work in ensuring that questions related to the accuracy or integrity of any part of the work are appropriately investigated and resolved.
---
References
Obasi GOP. WMOs Role in the International Decade for Natural Disaster Reduction. Bulletin of the American Meteorological Society 1994;75:1655-61. [Crossref]
Sutton J, Gibson CB, Phillips NE, et al. A cross-hazard analysis of terse message retransmission on Twitter. Proc Natl Acad Sci U S A 2015;112:14793-8. [Crossref] [PubMed]
Kryvasheyeu Y, Chen HH, Obradovich N, et al. Rapid assessment of disaster damage using social media activity. Sci Adv 2016;2:e1500779. [Crossref] [PubMed]
Woods C, West C, Buettner P, et al. "Out of our control": Living through Cyclone Yasi. Int J Qual Stud Health Well-being 2014;9:19821. [Crossref] [PubMed]
Kim YC, Kang J. Communication, neighbourhood belonging and household hurricane preparedness. Disasters 2010;34:470-88. [Crossref] [PubMed]
Huang CM, Chan E, Hyder AA. Web 2.0 and internet social networking: a new tool for disaster management?--lessons from Taiwan. BMC Med Inform Decis Mak 2010;10:57. [Crossref] [PubMed]
Gruebner O, Lowe SR, Sykora M, et al. A novel surveillance approach for disaster mental health. PLoS One 2017;12:e0181233. [Crossref] [PubMed]
Hamama-Raz Y, Palgi Y, Shrira A, et al. Gender Differences in Psychological Reactions to Hurricane Sandy Among New York Metropolitan Area Residents. Psychiat Quart 2015;86:285-96. [Crossref] [PubMed]
Middleton SE, Middleton L, Modafferi S. Real-Time Crisis Mapping of Natural Disasters Using Social Media. Ieee Intell Syst 2014;29:9-17. [Crossref]
Reuter C, Heger O, Pipek V. Combining real and virtual volunteers through social media. Iscram 2013:780-90.
Yin J, Karimi S, Lampert A, et al. Using social media to enhance emergency situation awareness. IJCAI International Joint Conference on Artificial Intelligence, 2015:4234-9.
Kim J, Hastak M. Social Network Analysis: The role of 384 social media after a disaster. In 10th anniversary homeland 385 Defense/Security education summit, Arlington, Virginia, 386 USA, March 23–24, 2017.
The American Red Cross (2009). Web users increasingly rely on social media to seek help in a disaster. Press Release issued August 9, 2009: Washington, DC.
Lindsay BR. Social media and disasters: Current uses, future options, and policy considerations. Congress research service; Report for congress (2011). Available online: http://www.infopuntveiligheid.nl/Infopuntdocumenten/R41987.pdf, accessed 10.15.2018.
Stewart M. The dynamic role of social media during Hurricane #Sandy: An introduction of the STREMII model to weather the storm of the crisis lifecycle. Computers in Human Behavior 2016;54:639-46. [Crossref]
Pew Internet & American Life Project. (2006). Blogger callback survey. Available online: http://www.pewinternet.org, last accessed 10.15.2018
Sweetser KD, Metzgar E. Communicating during crisis: Use of blogs as a relationship management tool. Public Relat Rev 2007;33:340-2. [Crossref]
JD Fraustino, Liu B, Jin Y. "Social Media Use during Disasters: A Review of the Knowledge Base and Gaps," Final Report to Human Factors/Behavioral Sciences Division, Science and Technology Directorate, U.S. Department of Homeland Security. College Park, MD: START, 2012.
Finch KC, Snook KR, Duke CH, et al. Public health implications of social media use during natural disasters, environmental disasters, and other environmental concerns. Nat Hazards 2016;83:729-60. [Crossref]
Bortree DS, Seltzer T. Dialogic strategies and outcomes: An analysis of environmental advocacy groups' Facebook profiles. Public Relations Review 2009;35:317-9. [Crossref]
Sadri AM, Hasan S. Crisis Communication Patterns in Social Media during Hurricane Sandy. Transportation Research Record: Journal of the Transportation Research Board 2018.125-37. [Crossref]
Cool CT, Claravall MC, Hall JL, et al. Social media as a risk communication tool following Typhoon Haiyan. Western Pac Surveill Response J 2015;6 Suppl 1:86-90. [Crossref] [PubMed]
Tkachenko N, Jarvis S, Procter R. Predicting floods with Flickr tags. PLoS One 2017;12:e0172870. [Crossref] [PubMed]
Goodwin R, Palgi Y, Hamama-Raz Y, et al. In the eye of the storm or the bullseye of the media: Social media use during Hurricane Sandy as a predictor of post-traumatic stress. J Psychiatr Res 2013;47:1099-100. [Crossref] [PubMed]
Rateau MR. Differences in Emotional Well-being of Hurricane Survivors: A Secondary Analysis of the ABC News Hurricane Katrina Anniversary Poll. Arch Psychiatr Nurs 2009;23:269-71. [Crossref] [PubMed]
Kim J, Bae J, Hastak M. Emergency information diffusion on online social media during storm Cindy in US. Int J Inform Manage 2018;40:153-65. [Crossref]
Kahn LH, Barondess JA. Preparing for Disaster: Response Matrices in the USA and UK. J Urban Health 2008;85:910-22. [Crossref] [PubMed]
Jamalia M, Nejatb A, Ghosh S, et al. Social media data and post-disaster recovery. International Journal of Information Management 2019;44:25-37. [Crossref]
Alam F, Ofli F, Imran M, et al. A Twitter Tale of Three Hurricanes: Harvey, Irma, and Maria. Proceedings of the 15th International Conference on Information Systems for Crisis Response and Management (ISCRAM), 2018.
doi: 10.21037/jphe.2019.11.01
Cite this article as: Ulvi O, Lippincott N, Khan MH, Mehal P, Bass M, Lambert K, Lentz E, Haque U. The role of social and mainstream media during storms. J Public Health Emerg 2019;3:15.