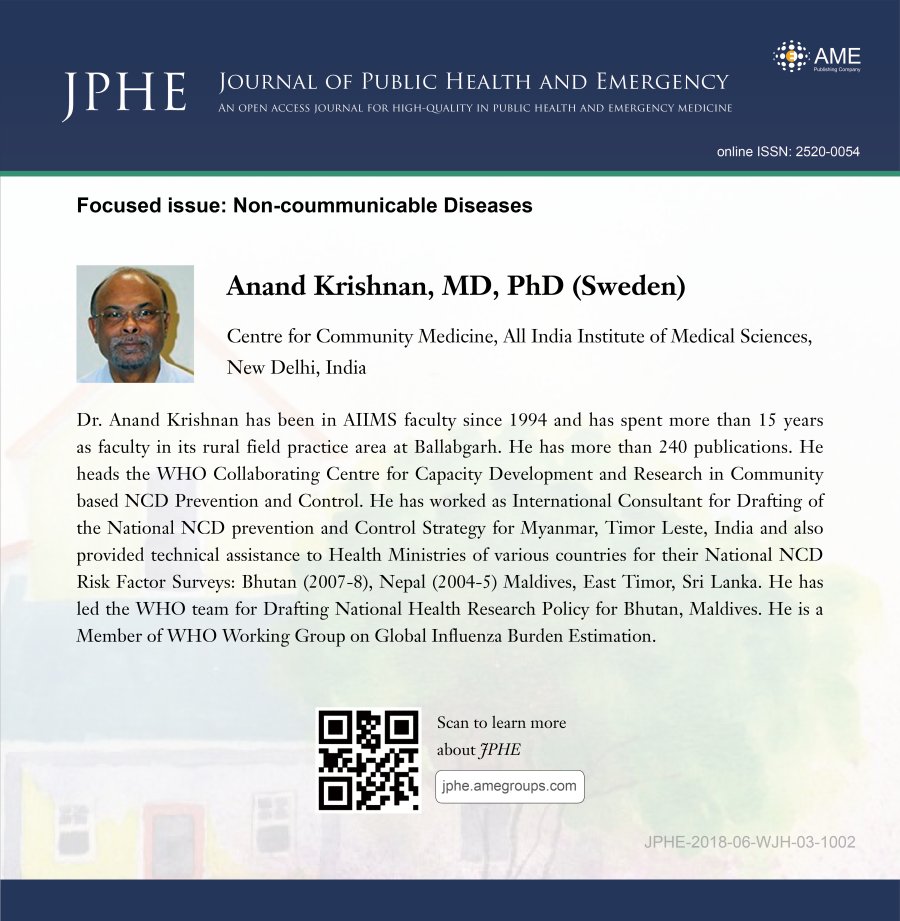 This focused issue on "Non-coummunicable Diseases" is edited by Dr. Anand Krishnan, from Centre for Community Medicine, All India Institute of Medical Sciences, New Delhi, India.
Dr. Anand Krishnan has been in AIIMS faculty since 1994 and has spent more than 15 years as faculty in its rural field practice area at Ballabgarh. He has more than 240 publications. He heads the WHO Collaborating Centre for Capacity Development and Research in Community based NCD Prevention and Control. He has worked as International Consultant for Drafting of the National NCD prevention and Control Strategy for Myanmar, Timor Leste, India and also provided technical assistance to Health Ministries of various countries for their National NCD Risk Factor Surveys: Bhutan (2007-8), Nepal (2004-5) Maldives, East Timor, Sri Lanka. He has led the WHO team for Drafting National Health Research Policy for Bhutan, Maldives. He is a Member of WHO Working Group on Global Influenza Burden Estimation.
Disclosure:
The series "Non-coummunicable Diseases" was commissioned by the editorial office, Journal of Public Health and Emergency without any sponsorship or funding. Anand Krishnan is serving as the unpaid Guest Editor for the series.