News
How does Wuhan respond to 2019-nCoV outbreak when the Spring Festival comes?
According to the information released by People's Daily & DXY (www.dxy.cn, the largest physician community in China), by 17:30 January 22, a total of 456 2019-nCoV cases had been reported in China, among which 25 were cured, and 9 died. The remaining patients had stable conditions and are isolated and treated in local designated hospitals.
On January 19, the relevant experts and the local government officials briefed the control and prevention of the 2019-nCoV outbreak. Here are the main points collected by DXY according to the press conference.
---
New 2019-nCoV cases were detected thanks to the use of new kit, and the case number is expected to rise in the coming days
On January 16, after receiving the kits released by the central government, Hubei Provincial Centers for Disease Control and Prevention began to perform pathogen identification on the specimens obtained from Wuhan patients with viral pneumonia of unknown causes. On January 16–17, the national and provincial expert groups confirmed 4 and 17 2019-nCoV patients, respectively, based on the clinical manifestations, epidemiological histories and pathogen testing results.
It is expected that the number of new cases will continue to rise with the implementation of the testing.
---
Enhanced screening of fever patients with pneumonia
After the outbreak of the unexplained viral pneumonia, Wuhan has strengthened the screening of fever patients with pneumonia in the fever clinics of medical institutions. Patients with viral pneumonia that was not caused by a known virus (including influenza virus, adenovirus, SARS-CoV, and MERS-CoV) were immediately isolated for treatment. Meanwhile, specimens were collected for testing for new coronavirus.
The national, provincial, and municipal expert groups carefully reviewed the clinical manifestations, epidemiological histories and etiological testing results of these patients and finally confirmed the diagnosis of 2019-nCoV infection.
---
The outbreak is still preventable and controllable. The possibility of human-to-human transmission can not be ruled out
The preliminary judgment is that the pathogen, 2019-nCoV, is not highly contagious; the possibility of limited human-to-human transmission can not be ruled out, but the risk of sustained human-to-human transmission is low.
With the implementation of a variety of prevention and control measures, the outbreak can be prevented and controlled. Most of the 2019-nCoV cases were mild. Up to January 19, 681 of the 763 close contacts have been removed from medical observation, and none of them have been found to be infected with 2019-nCoV.
---
The pneumonia due to 2019-nCoV infection is generally treatable
All the patients with confirmed 2019-nCoV infection were treated in a designated hospital, and each patient is treated by one medical team with one tailored treatment protocol. Five experts in respiratory medicine and infectious diseases sent by the central government, together with 26 medical experts from Hubei Province and Wuhan City, have formed joint medical rescue expert groups for treating the patients in the designated hospital on shifts that cover 24 hours a day, seven days a week. Meanwhile, a group of medical staff from major hospitals in Wuhan reinforced the designated hospital.
As of January 22, 2020, 25 patients were cured and discharged. Generally, the pneumonia caused by 2019-nCoV can be cured.
---
Measures have been taken to prevent the spread of 2019-nCoV during the Spring Festival
Management of close contacts
Medical observation of the close contacts is implemented citywide. In each district, medical record has been established for each close contact, and the close contacts, based on their categories, have been monitored and managed by community cadres, community grid members, and community medical personnel. The family members of the patients and other close contacts of the general populations have been followed up by home visit on a daily basis by medical staff from district CDCs and community health service centers, and the number has reached 12,100 visits. The close contacts of the patients diagnosed in Thailand and Japan are also being tracked and observed.
Coordinated prevention and control
Fever screening for passengers departing from Wuhan and disinfection and ventilation in public transportation tools. Passengers leaving Wuhan are screened for body temperature in the airports and railway stations. For passengers with fever, the following steps will be taken: register; deliver them with brochures and masks; arrange ticket refund or change free of charge; guide the referrals to medical institutions in their jurisdictions; and submit the registration reports.
As of January 18, screening for body temperature has been performed in about 300,000 passengers. Fever was detected in 16 persons, and none of them were positive for 2019-nCoV.
Monitoring of the Hua'nan Seafood Wholesale Market. Monitoring of the Hua'nan Seafood Wholesale Market continues after it was closed. Environmental sanitation measures have been applied in the market and its surrounding areas. The market and its surrounding entrances and exits are monitored 24 hours a day. The wastes have been disposed environment-friendly.
Furthermore, the agricultural trading markets, bazaars, and various business establishments have been inspected and rectified, where the sale of live poultry, the illegal breeding, processing, sale, transshipment, and trafficking of wild animals are strictly prohibited and punished. The cleaning, disinfection, and ventilation of the agricultural trading markets, bazaars, and various business establishments have been enhanced.
All the unnecessary or non-essential large-scale public gatherings will not be approved during the Spring Festival. Other efforts include enhanced management of fever clinics and promotion of Patriotic Health Campaigns.
In the coming days and months, we will continue our efforts in the following areas: (I) strengthen the screening of fever personnel; (II) increase the monitoring and control of agricultural trading markets and bazaars and resolutely prohibit the sale of live poultry and strictly crack down the illegal trading of wild animals; (III) promote the Patriotic Health Campaign; (IV) strengthen the treatment of patients and do our best to rescue the critically ill patients, so as to minimize the mortality; (V) strengthen the management of close contacts to effectively protect the health of residents and medical staff; and (VI) actively carry out health education and popularize knowledge about disease prevention and control.
---
Knowledge for medical staff
On January 12, the World Health Organization issued an interim guidance on the clinical management of severe acute respiratory infection when novel coronavirus (nCoV) infection is suspected.
Triage: early recognition of patients with SARI associated with nCoV infection (Tables 1,2).
Immediate implementation of appropriate IPC measures (Table 3).
Prevention of complications (Table 4).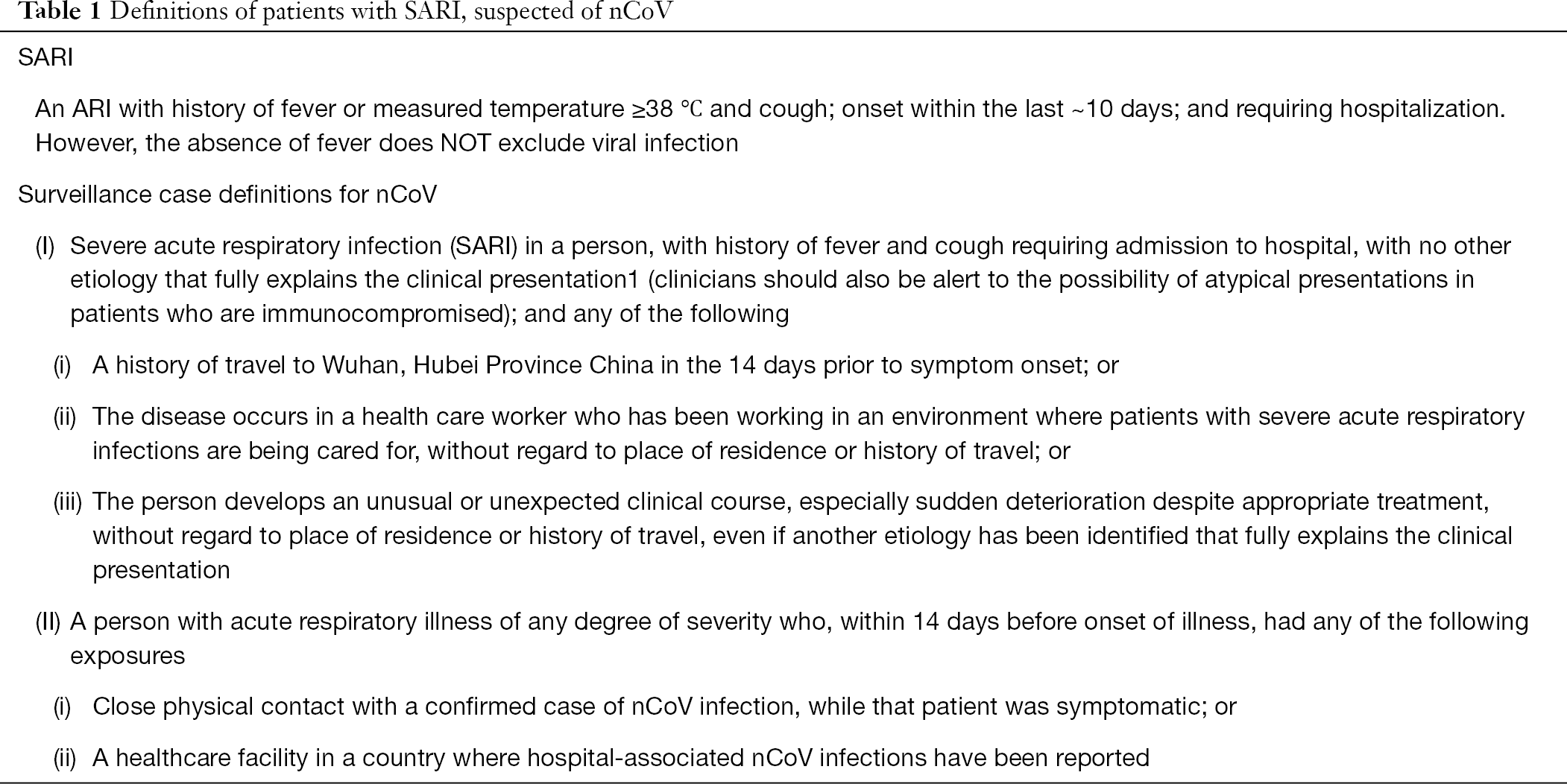 Table 1
Definitions of patients with SARI, suspected of nCoV
Full table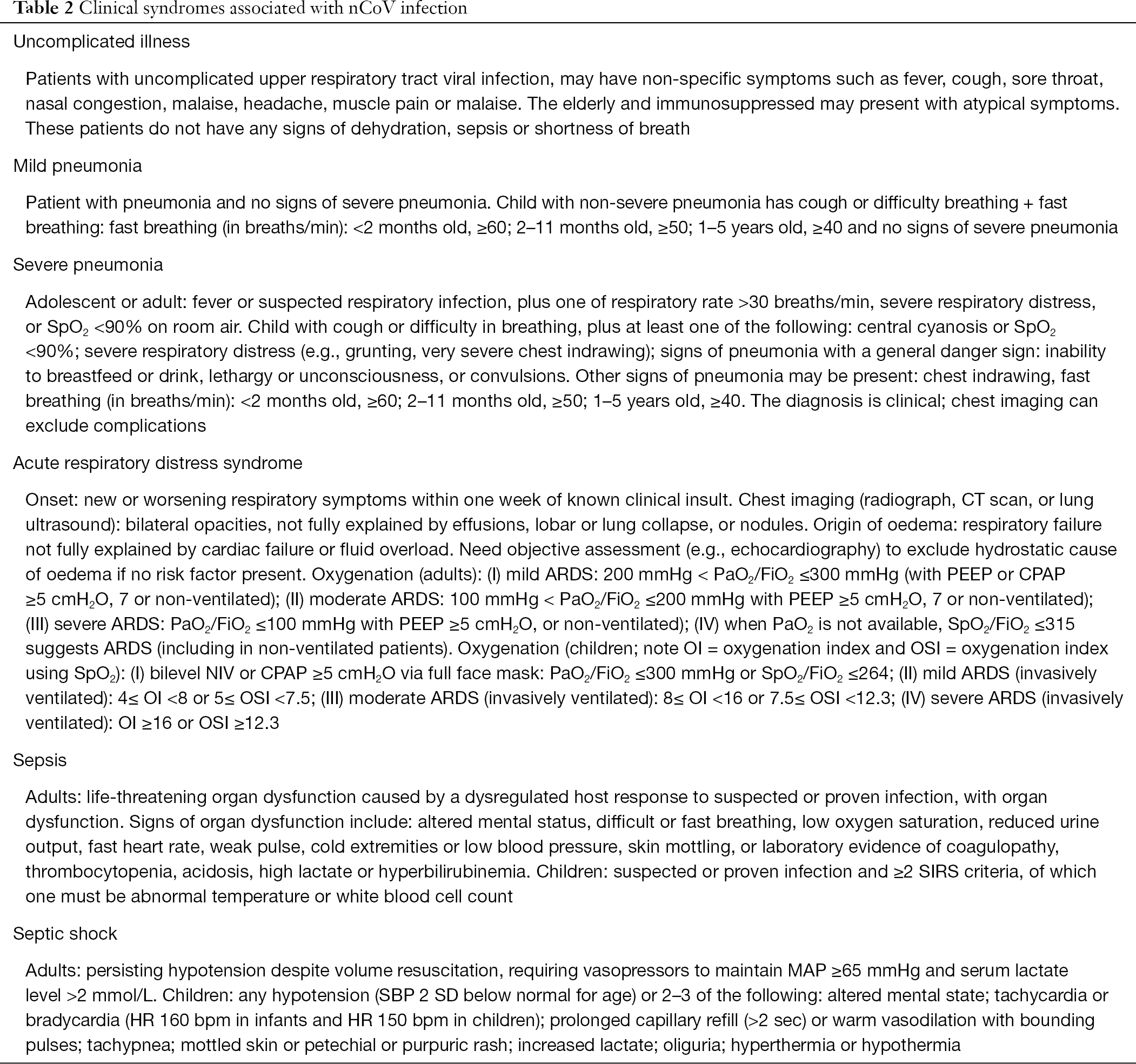 Table 2
Clinical syndromes associated with nCoV infection
Full table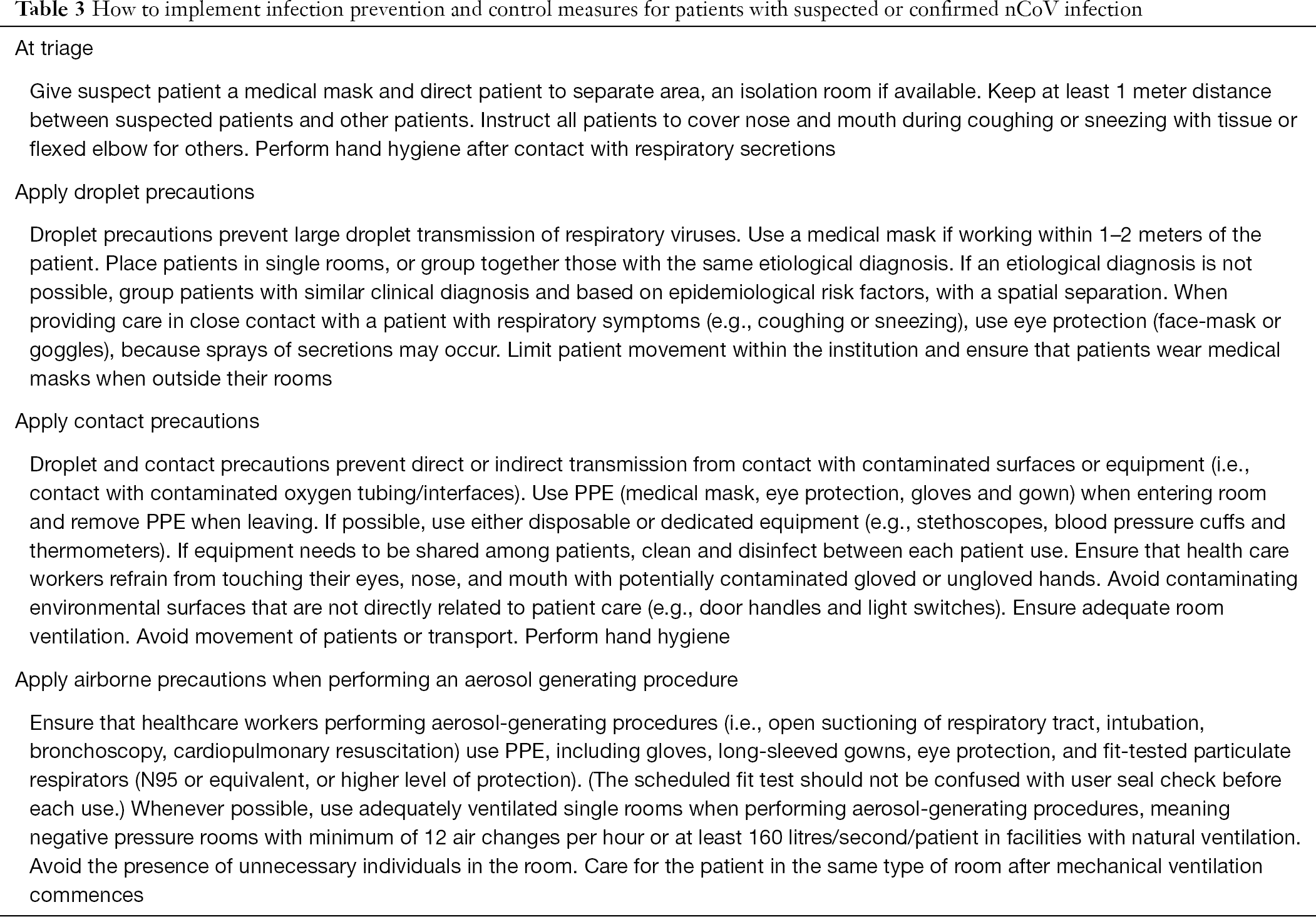 Table 3
How to implement infection prevention and control measures for patients with suspected or confirmed nCoV infection
Full table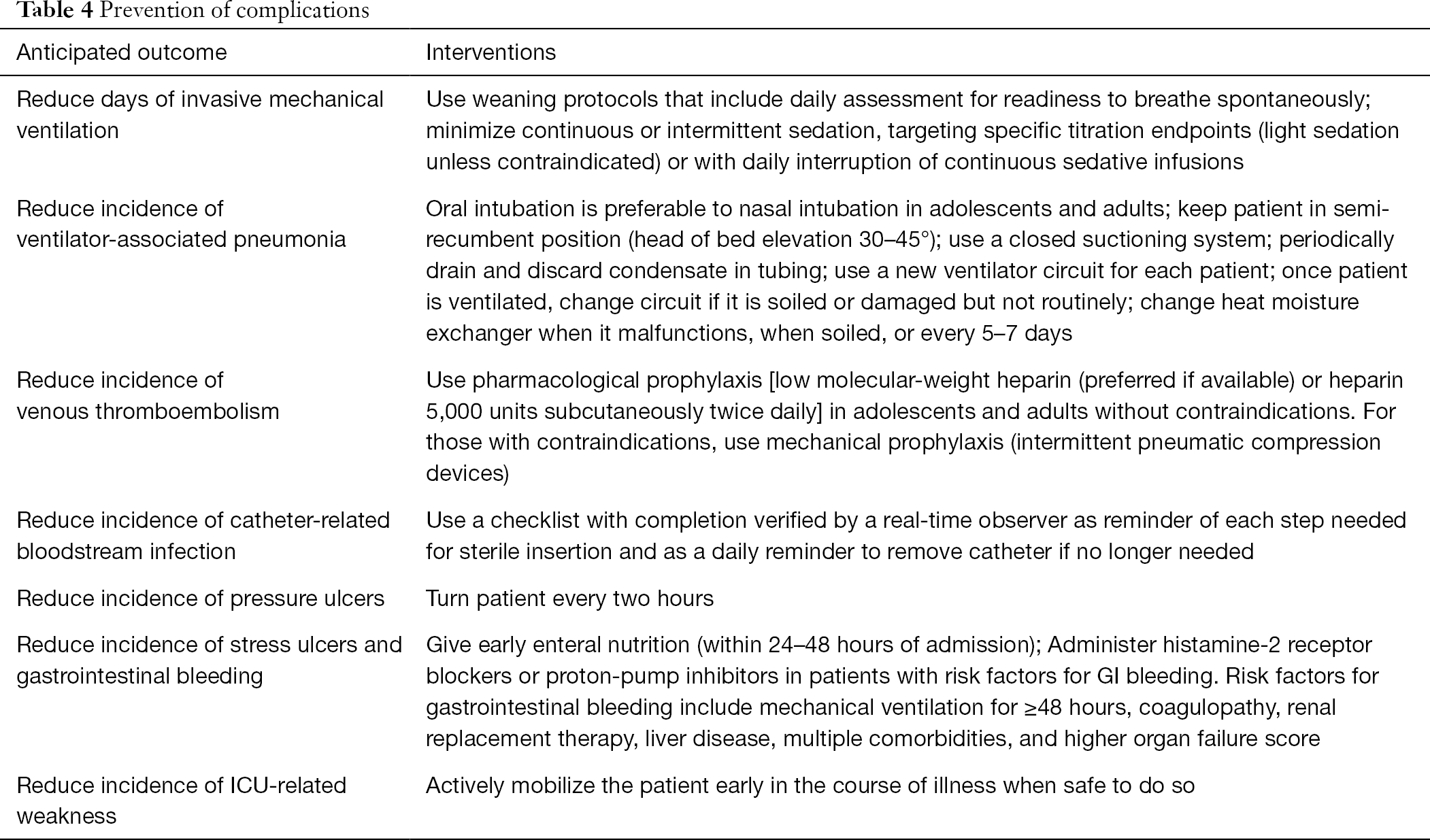 ---
Acknowledgments
We are grateful for DXY's great job in collecting all the information regarding 2019-nCoV in China.
---
Footnote
Conflicts of Interest: The authors have no conflicts of interest to declare.
doi: 10.21037/jphe.2020.02.01
Cite this article as: Editorial Office. How does Wuhan respond to 2019-nCoV outbreak when the Spring Festival comes? J Public Health Emerg 2020;4:6.